We are proud to inform that our custom developed training program "GP4research" dedicated to general practitioners and family physicians willing to become researchers in clinical trials  has been recognized by Transcelerate Biopharma Inc. The program consists of ten modules devoted to major aspects of clinical trials, including history, ethics, requirements, clinical trials' management, good clinical practices (GCP) etc. Each module is accompanied by a test which checks the knowledge of a given subject.
The program is available to our potential partners on the Polish language site https://gp4research.com/courses-overview. In order to check the contents of the training you will have to register and then log-in to our site. This will enable the access to one of the modules free of any obligations. In order to participate in the whole program you will have to register with MedConsult as a potential research partner.
After going through the whole training and passing all the tests, participants will be awarded the certificate from MedConsult- GP4research  confirming the completion of the program compliant with the Transcelerate guidelines.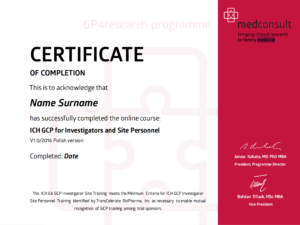 The training will be available in other languages shortly.
Please feel free to register and check the demonstration module. Should you have any further questions, contact us at info@gp4research.com.